The journey of Sew A Gift might have commenced many decades ago(since early 90's) to be precise but the manifestation as Sew A Gift took place only in November 2016.
Gifts can be a great way to make someone feel special. Whether it's a small token of appreciation or something more meaningful, there are many different types of gifts that can be given. From handmade items and personalized items to gift cards and experiences, the possibilities are endless when it comes to finding the perfect gift for someone special. Gift-giving is an important part of creating lasting relationships and showing someone that you care about them. With thoughtful gifts, you can show your loved ones just how much they mean to you. Gift giving is also important in every culture and region.
It is very rare though you get an opportunity to be involved completely with the gift making process. The choice of fabric,text,design,font,size apart from the item which is  in your budget was an unique  opportunity available to 'Friends of Sew A Gift'. 
When we decided to create Sew A Gift we had come across a couple of cases where the gifts we received were actually unwanted gifts. People even forgot to remove labels before passing it on to us. The second more important reason from our mission as well as vision was to keep gifting affordable, continuing  our purpose and philosophy.
The facebook page was the first set up on December 8th ,2016 
The main advantage of setting up a Facebook page is that it creates an online presence for your business, which can attract potential customers and expand your customer base. Additionally, a Facebook page allows you to stay in touch with existing customers by providing updates on new products and services, as well as news or promotions. One can also easily interact directly with customers by responding to their comments or questions. Furthermore, setting up a Facebook page can help one gain valuable insights into the preferences of the target audience through metrics such as post engagement and demographics.
Insights and data are becoming increasingly important in today's world. It can help inform decisions and guide the development of strategies for businesses, governments, healthcare providers, and other organizations. Data gives us insights into customer experiences, market trends, and competitive analysis. Data helps organizations better understand their markets and develop targeted campaigns to reach their goals. Collecting data also gives an organization a better understanding of its own operations, allowing it to identify areas where improvement may be needed or where opportunities may exist. Additionally, data can be used to spot patterns within certain populations which could assist in developing more effective products or services. In a nutshell, data is essential for any organization that wants to stay informed and make well-informed decisions.
With the background of marketing as specialization and knowing the reach which facebook could procure, the decision to set up the FB page was of prime importance.
However the first post of a completed gift was made only in December This gift was a mug rug.
Reach for More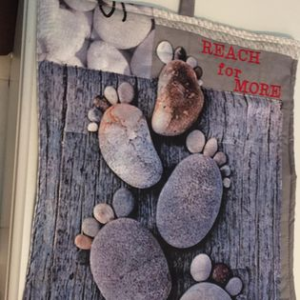 One of the ethos of Sew A Gift ,from the very beginning was that stitching time should not be more than 30 minutes,irrespective of how long the embroidery takes.
Mug rug itself was a new concept for many though for me it was not new.
I had made mug rugs earlier for my family and friends' children. Something to whip up quickly while keeping it meaningful.
Mug Rug
Let us delve into what is a mug rug A mug rug is a small, decorative rug that is used to set a cup of coffee or tea on top of in order to protect the surface beneath it. It typically has a quilted or patchwork design and can be made out of fabric, felt, or other materials. Mug rugs are often used as decorations in kitchens and dining rooms and come in a variety of shapes, sizes, colors, and patterns.
Finding a Fabric with foot prints and pebbles was so subtle while being meaningful.
Enhancing the fabric and adding the message 'Reach for More", using the embroidery machine was the next step.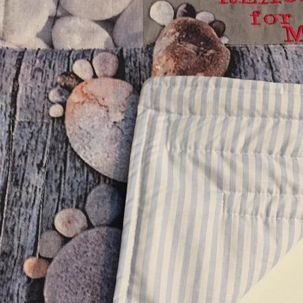 A mug rug has three layers to it.The top fabric the middle a batting layer and the down below layer.
After cutting the required size , the top layer was kept on the embroidery frame and the message was embroidered. Next the three pieces were assembled .The story of how a mug rug is stitched will be for another day. We also put a small loop to hang the mug rug, so it can help drip dry after wash or be used to hang when mug rug is not in use. 
You can view the footprint which was stitched in place to give shape and grip to the mug rug. 
Some minor quilting stitch was used.
Check this link for the original post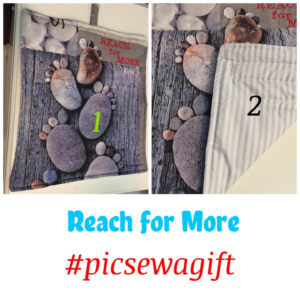 The magic of the Reach for More was within 10 minutes of posting that on the FB page we received an order for 10 of these from a friend who was based in the Netherlands and wanted to give these as gifts to various family members in her upcoming trip to Dubai and India. ( pieces were to be created in the mug rug size and one she wanted as a wall piece  hanger so we had to put two hanger loops
Ok so photography is not our strength, forgetting to take photos is our weakness , we don't use the opportunities available to us to pitch the photos to our Friends of Sew A Gift and the biggest threat is that tech and photos go hand in hand and not being able to take proper photos, due to lack of time is not good for our brand image.Yes I can do a fair SWOT and this gives me an opportunity to reflect on what I should do for ensuring Sew A Gift progress.
The gifts we make compensate for the poor photos so when we show the gifts there is always a wow !!.
The journey which began officially then has taken many routes and now we hope to narrate each story and the memory we helped create.
The hashtag story shall be revealed soon. Till then continue tracking us and 'sift the gift'.
#PICSewAGift
#ShambavisSpectrum
#Handmade.